In October 2021 we had the absolute pleasure of supplying XEYEX with some very colourful branded cube seats! They looked stunning and will last for many years to come, and will also raise awareness of their brand due to the fact their brand is printed on each side of the cubes.
XEYEX started in January 2012, with the sole focus of making a true difference to independent opticians. Today, they are currently operating in four offices and have a team spreading over Customer, Development and Business operations. They handle 10 million plus data transactions every day and more than 30,000 a second during peak hours. There main location is in Strathclyde Business Park in Bellshill.  From the start to finish of the process XEYEX have been a pleasure to do business with, and we wish them well in the future. Why not check out them for yourselves by visiting their website at xeyex.co.uk.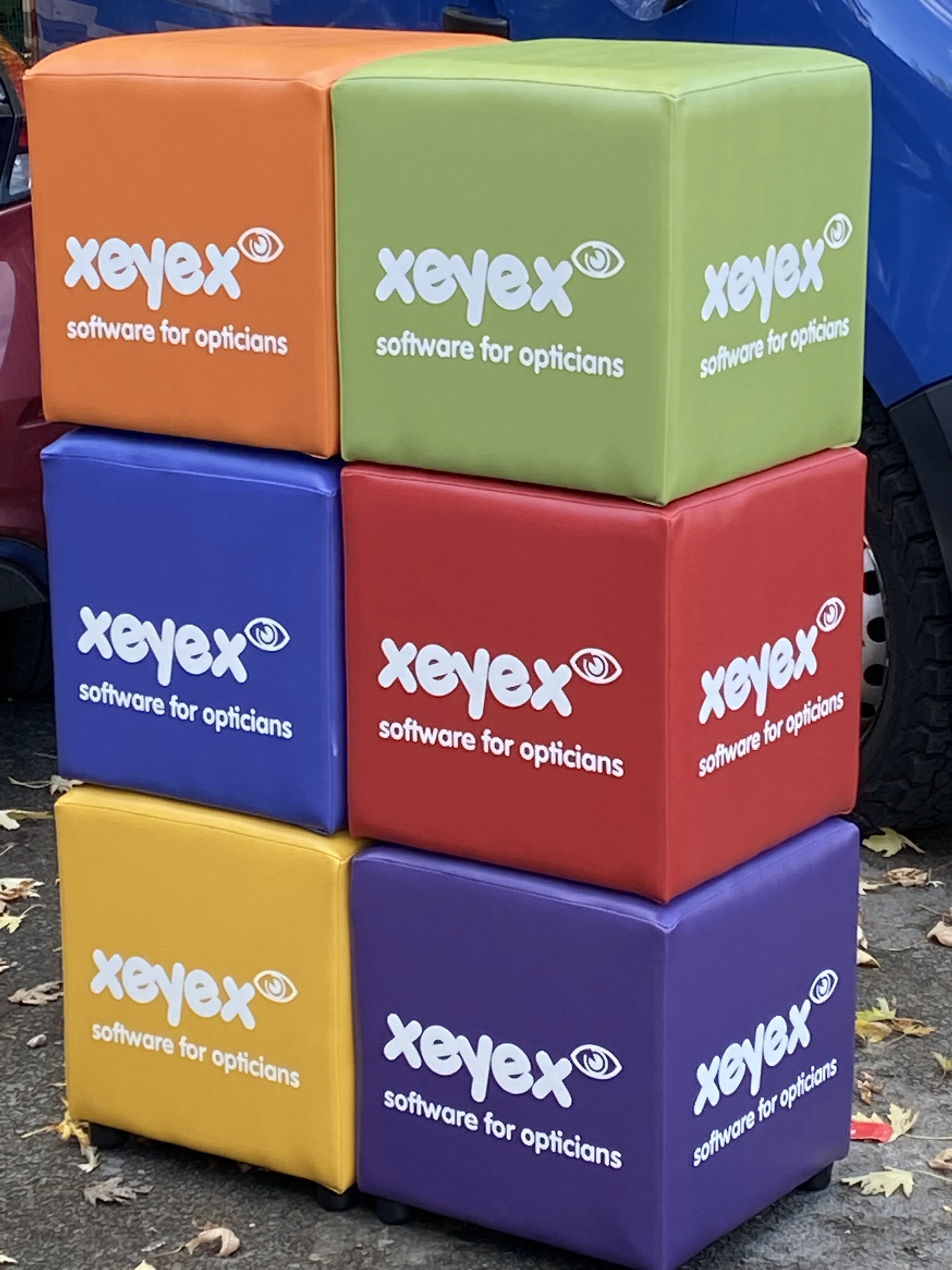 While we are on the topic of branded cube seats, does your company require seating that can promote your brand at the same time? Or do you know of a company that could do with branded seating? If so contact us or get them to, we really are only a call away! Use our office number by dialling 0113 276 0171 or alternatively email us at info@footstoolsdirect.com.
We can print any band logo on our cubes and it's your choice how many sides of the cube you would like the brand image on. All we require is a JPEG image file of yourself sent to us and we do the rest! Our cubes come in a range of colours as well so we are sure you will find a colour to match your brand image. The branded cubes have been a success in getting people to recognise your brand image, and we are sure they will benefit XEYEX as well and also provide them with comfortable seating at the same time!
We also feel that now we are coming out of the pandemic, companies will want to really grow their businesses and get them to the forefront quicker than their rivals. Which is where our branded seats come in yet again, as they really do help in brand image and disposal.